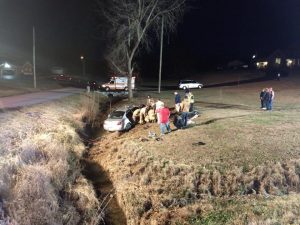 More details have been released about a single-vehicle accident in Caldwell County Sunday night.
Caldwell County Sheriff Stan Hudson says that deputies responded to the report of a one-vehicle accident at the intersection of Crider Dulaney Road and Highway 62 West, west of Princeton, just after five.
Preliminary investigation revealed that the driver, 25-year-old Perry Allen of Princeton, was traveling east along Highway 62 West when he came upon a car stopped to turn onto Crider Dulaney Road. Allen then slammed on his breaks, skidding to avoid hitting the stopped vehicle, traveled across Crider Dulaney Road and came to a rest in a ditch.
Passenger, 26-year-old Jasmine Allen of Princeton, and two juveniles were transported to Caldwell Medical Center by Caldwell County EMS for minor injuries. Perry Allen and another juvenile in the vehicle were not injured.
Reports also indicate that while Allen passed a field sobriety test he did admit to deputies that he had been drinking that evening. Reports also indicate that Allen's car had potential break issues, which could have been a leading factor in the accident.
Caldwell County Sheriff's Department was assisted at the scene by Princeton Fire and Rescue and Caldwell County EMS.