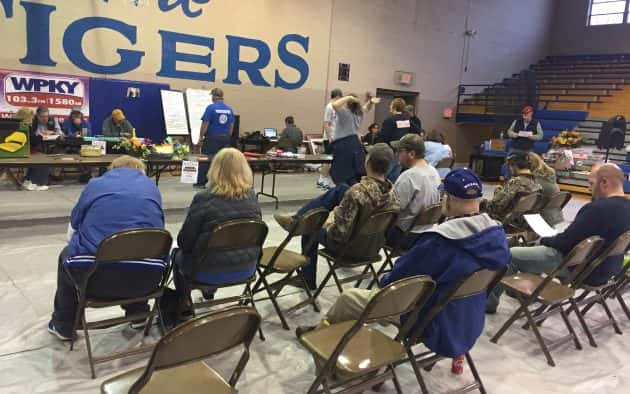 The second night of the 48th Annual Princeton Optimist Club Radio Auction was another hit out of the park.
Ty Englebright, President of the Princeton Optimist Club, says that the Club raised just over $2,000 for the youth of Caldwell and Lyon Counties. He adds that 67 items were auctioned off with a final price tag of $1,526, while $534 in cash donations were collected through both the Good Ol' Goat Program and the donation jar for Ralph Sharp's photos.
Roy Gene Rogers, member of the Optimist Club, notes that there are still thousands of photos that Ralph took that are available, for free, at the Butler Gym during the auction. Everyone is being invited to come and browse through the many photos that span several decades of Caldwell, and even surrounding county's histories. A donation jar is set up for those who wish to make a donation to the Scholarship Fund in Ralph's honor. Englebright adds that all donations made in Ralph's memory will be matched by an anonymous donor, up to $2,500.
Rogers also says that the Club has seven free sessions donated by Stephanie Boaz at Where New Beginnings Start Christian Counseling that are available to the public. 
The auction will continue through Friday evening at the Butler Gym in downtown Princeton. Items auctioned off include anything from gift certificates to local businesses to framed artwork to hair products to homemade items and more. Englebright does note that all items that are auctioned off, minus gift certificates, will include a six percent sales tax as per new Kentucky tax laws.
You can listen to the auction live each evening through Friday starting around 5:30PM here at WPKY 103.3FM/1580AM, online at wpkyonline.com, and on the WPKY app. The phone number to call is 270-365-5866. Members of the community are also welcome to stop by the Butler Gym to browse the items and bid in real time.