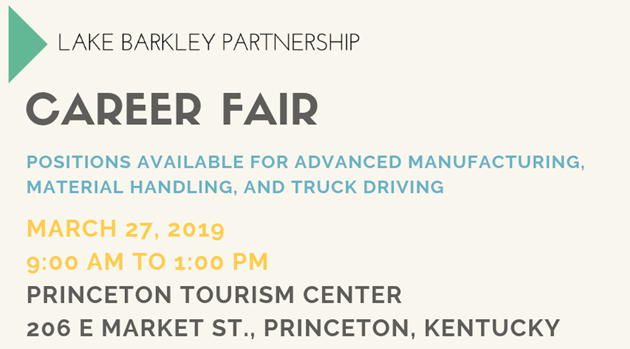 A tri-county economic development partnership will host their first ever career fair next week.
According to a release the Lake Barkley Partnership for Economic Development will host the career fair on Wednesday, March 27th from 9AM until 1PM at the Tourism Center in downtown Princeton.
The release adds that over the past year the Lake Barkley Partnership has been working with industry partners to help fill existing job openings. In the summer of 2018, the Partnership held three community SWOT meetings to identify perceived strengths, weaknesses, opportunities, and threats in Caldwell, Crittenden, and Lyon Counties. From those meetings the Lake Barkley Partnership formed their strategic plan to begin addressing business and industry needs.
Amanda Davenport, Executive Director for the Partnership says that one of their goals is to address the needs of existing businesses. She adds that the Partnership knows that filling job openings is a great way to support employers within the tri-county area.
Davenport notes that the Partnership wanted to focus the first career fair on supporting industry, so available job openings will be advanced manufacturers, material handlers, and truck drivers.
The event is free for attendees and open to the public. Job-seekers will have the opportunity to talk and network with BGB Trucking, DHL Supply Chain, Henry & Henry Monuments, Hydro Gear, Par 4 Plastics, TreeHouse Foods, and WCA Waste. Hopkinsville Community College will also be on hand with information about their CDL Training program.
Job seekers are encouraged to dress professionally and bring copies of their resume.
For more information you can contact Amanda Davenport at lakebarkleypartnership@gmail.com.