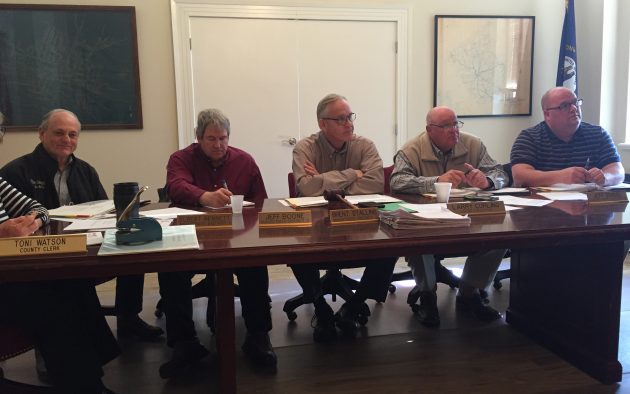 Kentucky Transportation Cabinet Officials made a stop in Caldwell County as part of a statewide listening tour to hear the most pressing transportation infrastructure needs within the county.
KYTC Engineer Andy Barber, KYTC Hopkinsville Section Engineer Charlotte Cotton, and KYTC Caldwell County Road Superintendent Wes Bentley addressed the Fiscal Court during a meeting Tuesday morning at the courthouse. Barber stated that they were there to get feedback from local citizens who drive the roads on a daily basis to see where state officials may be overlooking problem areas.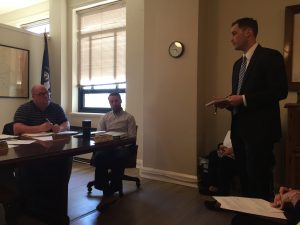 Judge Executive Larry Curling said that he was most concerned with the upkeep of roads already within the county as opposed to adding new roads. Magistrate District Two Jeff Boone brought forward the bad curve on Highway 91 North between Princeton and Fredonia that is responsible for more wrecks than anywhere else in the county, including a log truck roll-over on Monday afternoon. He added that it seems the ditches are too close to the roadway and when someone slips off the roadway it turns disastrous. Cotton noted that she would have someone look into the issue.
Magistrate District Three Brent Stallins then spoke up saying that his wish was to see something done to the I-69 overpass on Highway 91 North. He mentioned that the traffic backup in that area due to school traffic and motorists entering and exiting I-69 is causing several issues and it needs to be resolved for the future of economic development within the community. Cotton added that engineers are looking at the project but, as of yet, no steps have been made to move forward.
The last major issue brought forward was the railroad crossing on Highway 62 West across from Casey's General Store. Cotton stated that contractors will begin work on replacing the entire crossing at the beginning of June. She noted that the work would include an extended closure of the roadway for about a week to ten days. Judge Curling asked if anything could be done in the meantime as the crossing was so deteriorated that vehicles were hitting the metal tracks. Cotton assured county officials that something would be done quickly and by Tuesday afternoon state highway crews had filled the holes with a temporary fix.
Judge Curling ended the meeting with Barber, Cotton, and Bentley by saying his main request was to "pave the roads and make them wider."