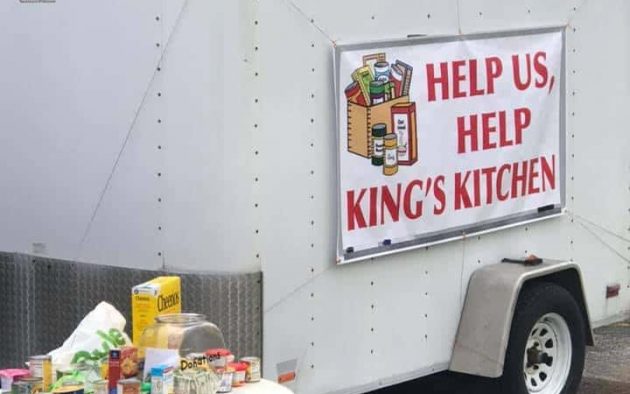 The community showed up and showed out and helped WPKY help King's Kitchen Summer Feeding Program at a food drive Thursday.
King's Kitchen volunteer Sheila Meeks says that the program raised over $4,700 in cash donations and several hundred pounds of food during the all day event in front of the station.
She adds that community members donated over 43 pounds of macaroni noodles, 61 pounds of spaghetti noodles, 47 boxes of cereal, 20 boxes of cheese crackers, 28 boxes of cookies, 250 pudding cups, 150 mandarin orange cups, 224 cups of apple sauce, 35 boxes of brownies, 15 gallons of green beans, 32 bottles of ranch, and over 5,200 individual sandwich bags.
Meeks notes that all the funds raised Thursday will go directly to feed children within Caldwell County. She reminds community members that King's Kitchen is a summer feeding program that provides home-cooked meals three days a week during June and July to children who might otherwise go hungry.
Coordinator Lee Anne Gilkey stresses that donations for much needed items will continue to be accepted throughout the entire year. Those who may have missed the opportunity to donate at the food drive Thursday can contact her at 270-625-4627 or Southside Baptist Church at 270-365-5510 for more information.
Photos and video from Thursday's food drive can be found here.