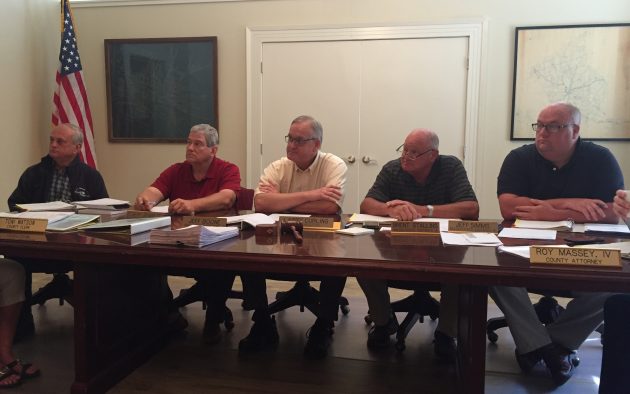 Paving material bids for the Caldwell County Road Department for Fiscal Year 2020 have been accepted following action taken by the Fiscal Court.
At a meeting Tuesday morning Judge Executive Larry Curling stated that bids were publicly opened Friday evening for asphalt, chip and seal, rock, culverts, and tack oil to be used by the road department throughout the next fiscal year. He suggested that the Court approve the lowest bids for each material.
Marathon Petroleum Company submitted the only bids for tack oil with prices set at $2.40 a gallon for RS-2 and SS-1H tack oil and $3.25 a gallon for AE-200 tack oil. For chip and seal Crown Contracting and Paving submitted the only bid in the amount of 65 cents per square yard for single seal and 98 cents per square yard for double seal. Metal Culverts Inc. placed the lowest bid for pipe and culverts in the amount of $12.90 per foot of 15 inch pipe, $15.30 per foot of 18 inch pipe, and $20.40 for 24 inch pipe.
Judge Curling noted that for rock his suggestion to the Court was for the county to accept bids from two companies, Rogers Group and LaFarge, for the purpose of cutting costs on delivery. He explained that for projects in the northern part of the county LaFarge would be used, while Rogers Group would be used for projects in the southern portion of the county, with costs starting at $8.35 per ton.
Judge Curling added that Rogers Group was the only company to place bids for asphalt in the amount of $75.25 per ton for base asphalt, $81.50 per ton of binder asphalt, and $83.50 per ton of surface asphalt.
After a motion and a second the Court unanimously approved all low bids for paving materials.