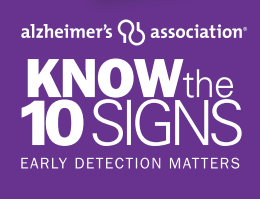 Those experiencing memory loss, or those who know someone experiencing memory loss, are being invited to a free workshop in Hopkinsville to learn the early indications of Alzheimer's disease.
Helene French, Community Outreach Coordinator of the Greater KY/Southern IL Chapter of the Alzheimer's Association, says that the workshop, "Know the 10 Signs: Early Detection Matters" will be held Tuesday, July 23rd from 10 to 11:30AM at the Pennyrile Area Development District Office in Hopkinsville.
She adds that the workshop will help those suffering from memory loss, or those who know someone struggling with memory loss, learn the facts surrounding dementia and Alzheimer's. French notes that early detection of Alzheimer's disease gives you a chance to begin drug therapy, enroll in clinical studies, and plan for the future.
She explains that the interactive workshop will feature video clips of people who have been diagnosed with Alzheimer's.
While the workshop is free those interested in attending must register and can do so by calling 1-800-272-3900 or by visiting communityresourcefinder.org.
More information about the workshop can be found at alz.org/10Signs.