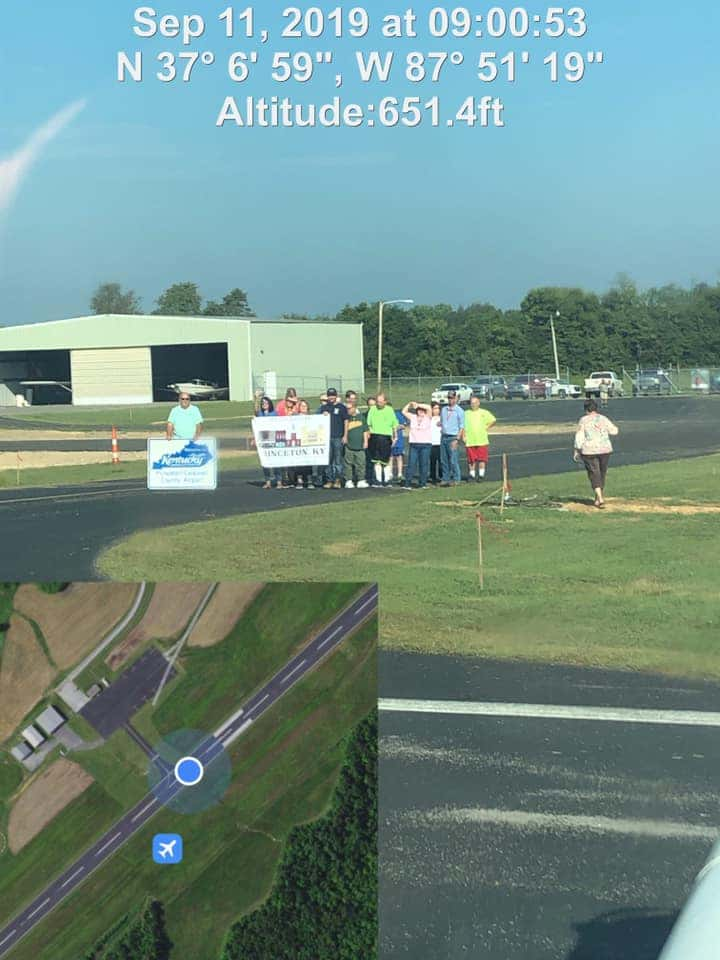 A small group welcomed a potential Guinness world record breaking pilot, who is attempting to land at 110 airports in 24 hours, to Princeton early Wednesday morning.
Daniel Moore, a pilot from east Tennessee, landed at the Princeton-Caldwell County Airport just after nine to a group of smiling faces waving a banner sporting the newly released city logo. In a post on social media, Moore, who is attempting to break the current world record of landing at 87 airports in 24 hours, stated that the warm welcome in Princeton made his day.
As of Wednesday afternoon Moore had made complete stops at over 40 airports in Kentucky and Tennessee and was making his way along his original route, which would lead him into Alabama, Georgia, North and South Carolina, before heading home to east Tennessee.
Before his stop in Princeton, Moore landed at airports in Springfield and Clarksville, TN and Hopkinsville. After leaving Princeton he landed at airports in Calvert City, Mayfield, and Murray before heading back into Tennessee.
In order to be eligible of breaking the record Moore must fully land at each airport, take a photo with a distinctive feature of the airport, and have several witness accounts that he came to a full stop. He says his goal of 110 airports is to respect and honor those whose lives were lost or forever changed on September 11, 2001, as the World Trade Center had 110 floors.
Moore's progress can be followed online here and 110 Airports on Facebook.