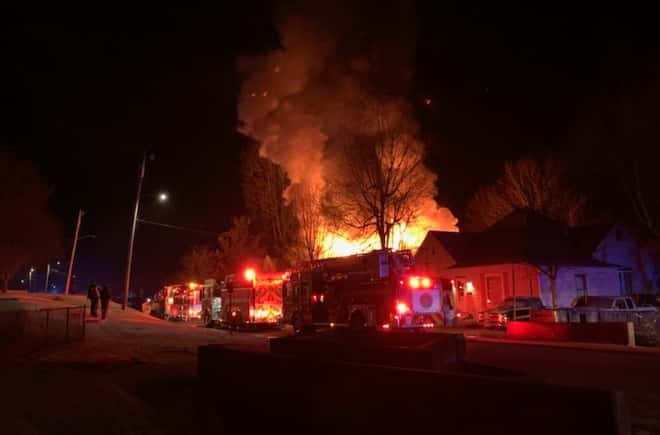 A Princeton home was a total loss in a fire early Wednesday morning.
Princeton Fire Chief Brent Francis says that crews were dispatched to reports of a house on fire in the 400 block of East Main Street just after five. He adds that when firefighters arrived on scene the home was heavily involved and fire was coming through the roof.
Chief Francis states that Princeton Public Works brought in a backhoe to help move aside the collapsed roof so that crews could reach a pocket of flames within the home. He notes that several hot spots continuously flared up in inaccessible areas of the home which caused firefighters to battle the blaze for over five hours. The home, which did collapse in on itself, is considered a complete loss and damage was also reported to the vinyl siding of a neighboring home.
Chief Francis reports that the cause of the fire remains unknown but all occupants in the home were out of the residence when firefighters arrived. He does state that a firefighter was injured after slipping on ice outside of the home but injuries are suspected to be minor.
Chief Francis would also like to extend thanks to the Fredonia Fire Department for covering the city and county while they worked to contain the fire as well as to Deputy City Clerk Jenny Clark for brining all emergency responders breakfast and water while they were on scene.