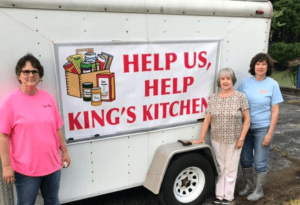 King's Kitchen Needs Our Help!
This year has been particular hard on all families. Wondering where the next meal is coming from is something we don't want to happen in our community.  The King's Kitchen will continue their Summer meal program, but just a little different. This year will not be daily hot meals. King's Kitchen will be providing kids with food for a week at a time. Please find a list below of what items are needed. You can also make a monetary donation! Their cost for each kid for 4 weeks is $36.  Why not sponsor a child? Maybe two or more?
You can make food and monetary donations now at the WPKY studios, but we are also having a big donation day on Friday, June 12th. Please consider helping the King's Kitchen this year!
Items needed:
Vienna sausage
Cereal bars / granola bars ( no nuts)
Canned  pasta (spaghetti, ravioli, beefaroni )
Mac and cheese cups
Fruit cups
Applesauce  cups
Cereal
Cookies (No nuts)
Chicken ramen noodles
Chicken noodle or vegetable soup
Pudding packs
Cheese crackers ( cheez-it, WHALES, goldfish)