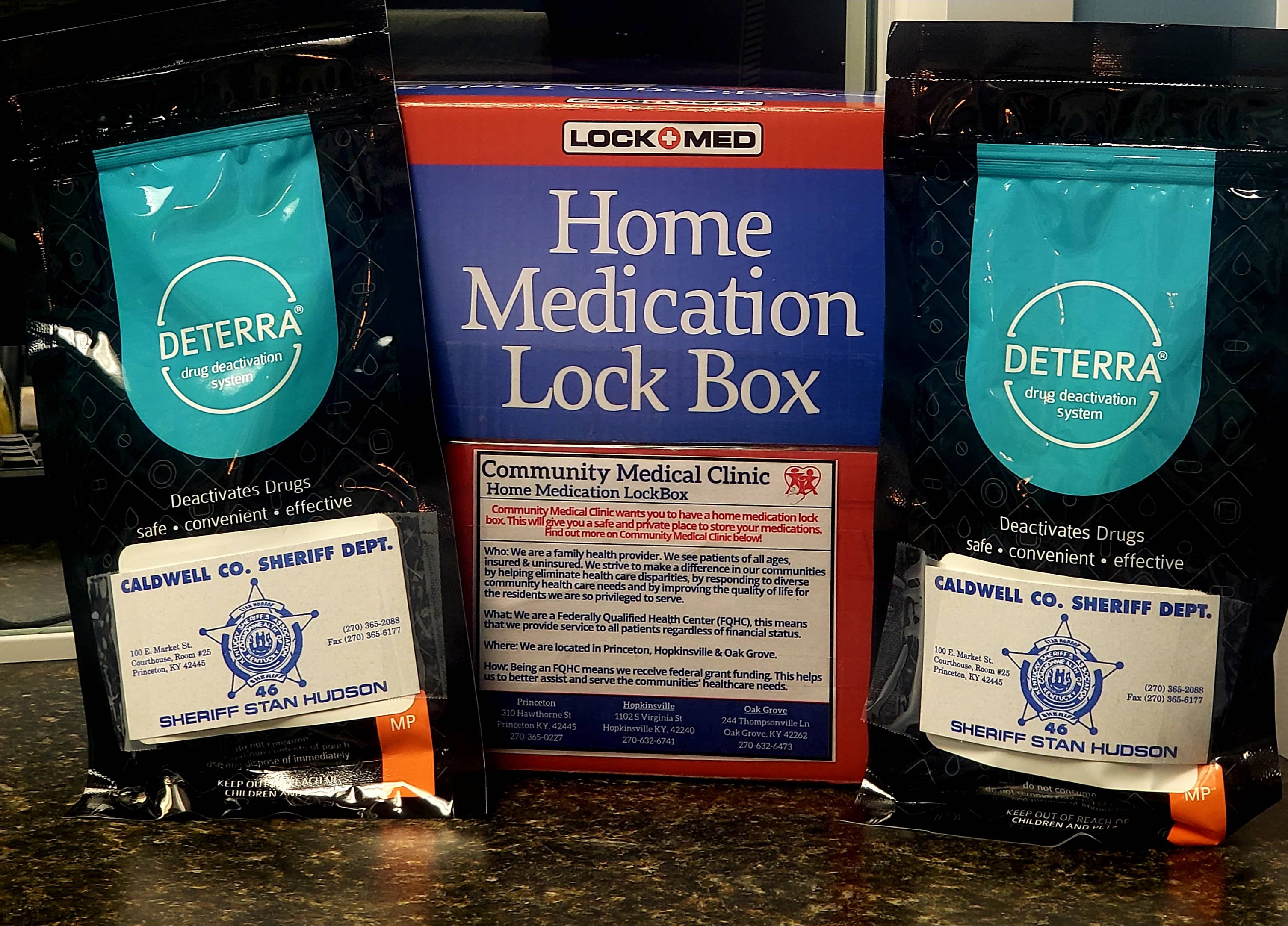 The Caldwell County Sheriff's Office has partnered with the Community Medical Clinic to offer the community free MedLock boxes to help them properly dispose of old medications.
Sheriff Stan Hudson says Community Medical Clinic has generously donated MedLock boxes to be distributed to community members who wish to have a home medication lock box that will allow for the safe and private storage of medications. He adds the lock boxes will be available, one per family, Monday through Friday during normal business hours from 8AM until 4PM at his office, which is located on the second floor of the Caldwell County Courthouse in downtown Princeton.
Sheriff Hudson states his office does have a drop box for old, expired, or unused medications and can accept all medications except for new or used needles, inhalants, creams, or liquids, however, due to another donation from the Community Medical Clinic, his office can now offer Deterra® Drug Disposal System packages. He explains the Deterra® System is a Molecular Adsorption Technology that, through a simple 3-step process, can deactivate drugs, thereby preventing drug misuse while also protecting the environment. The packages will also dissolve creams and liquids allowing the sheriff's office to offer a means of disposing of medications they've been unable to accept in the past.
Sheriff Hudson expresses his office is extremely excited to be partnering with the Community Medical Clinic to offer these options to the citizens of Caldwell County but notes the office is limited in the supply of both lock boxes and Deterra® System packages, so anyone who may need or want one is being asked to call the sheriff's office at 270-365-2088 to verify supplies.
The Community Medical Clinic, which is located at 310 Hawthorne Street in Princeton, provides services to all patients regardless of financial status and accepts patients of all ages who are insured or uninsured. A Sliding Fee scale program is also available to assist those in need so they can receive care at a reduced rate. For more information you can contact the Community Medical Clinic at 270-365-0227.