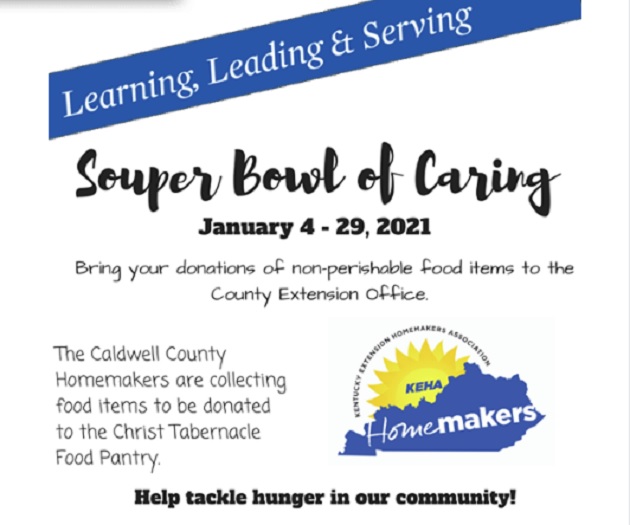 The Caldwell County Extension Office is kicking off 2021 with a food drive this month to help families in need, and then next month the agency will be offering a program focusing on a healthier mind, body, and soul.
Caldwell County Cooperative Extension Family and Consumer Services Agent, Ashley White Board tells the News Edge the homemakers are hosting a 'Souper Bowl of Caring', which she believes is the fourth year for the food drive.
click to download audioShe adds they usually host the food drive two weeks prior to the biggest professional football game of the NFL season, but this year they are collecting the entire month of January. She says donations can be dropped off at the Caldwell County Extension Office to allow them to make the donation to a local church.
click to download audioIn addition to the food drive, Board says the Extension Office will be hosting a virtual 'Recharge in 2021' next month.
click to download audioThose interested in the virtual program can register in advance.
click to download audioFor more information about the 'Souper Bowl of Caring' food drive or 'Recharge in 2021', call Ashley White Board at the Extension Office at 270-365-2787. The Caldwell County Cooperative Extension office is located at 1025 U.S. Highway 62 West in Princeton.