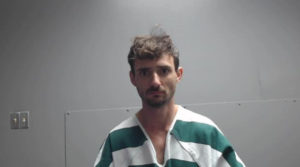 A Princeton man was charged after he reportedly fled from law enforcement as they attempted to stop him due to an active warrant Tuesday afternoon.
Princeton Police Chief Chris King says they attempted to stop 26-year-old Dalton Fluaitt on Baker Street due to an active bench warrant for failure to appear and he fled on a bicycle.
Fluaitt was reportedly located after he ran into a tree line near Highland Baptist Church. He was arrested and charged with two counts of second-degree fleeing or evading police.