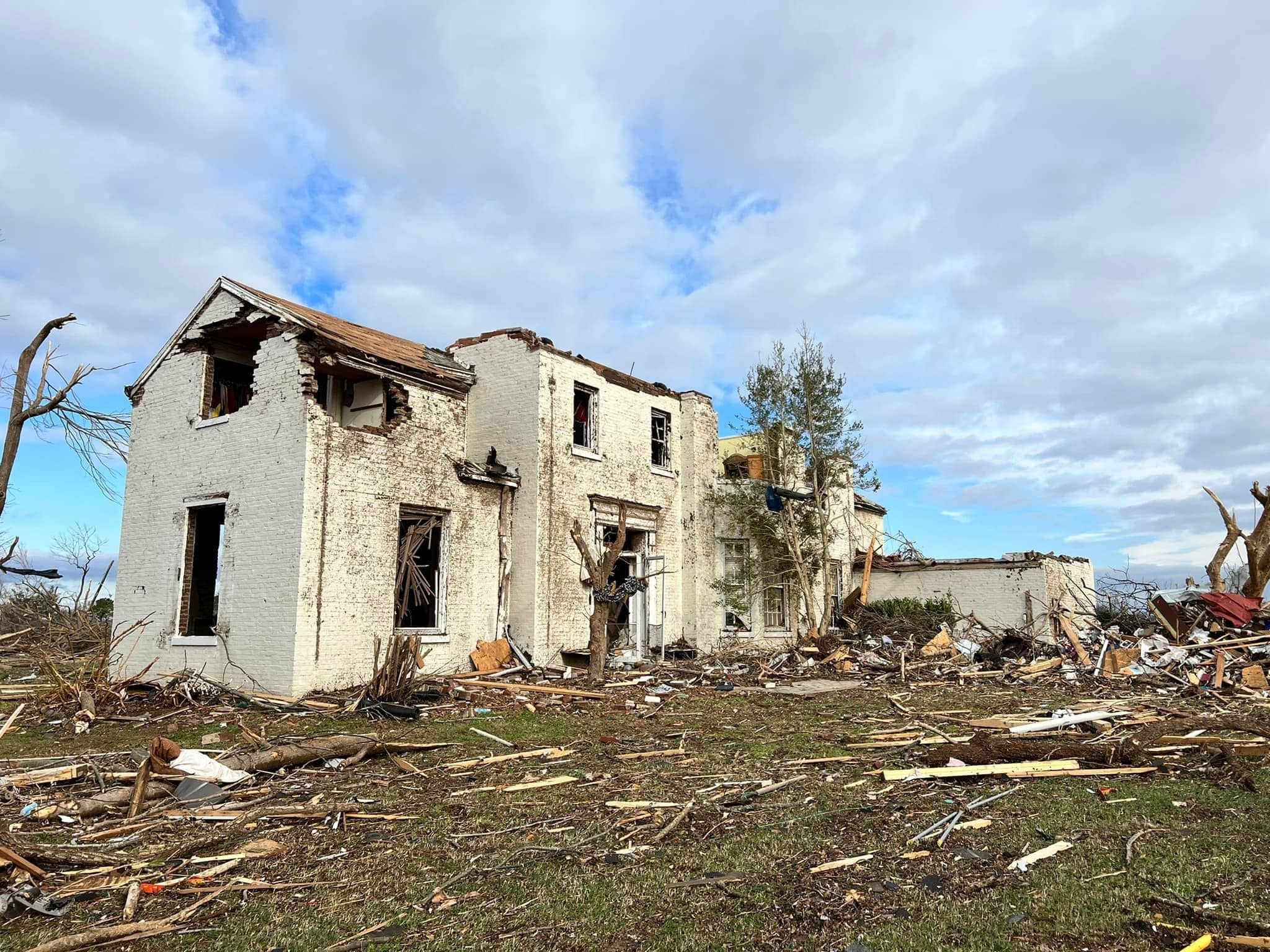 It was supposed to be a quiet movie night.
Ken and Katie Parker's son, Luke, had a friend over from school. Daughter, Karsyn, was home, too. And on the evening of December 10, just two weeks before Christmas, things were calm and cozy near KY 293 and Meadowbrook Drive.
Around 10 p.m., Katie alerted the family some serious storms were on the way, and they headed to the basement — family pets in tow. Nothing dangerous, everyone thought, because weird weather happens all the time in west Kentucky.
Ten minutes later, an alert popped on Ken's phone: TAKE SHELTER NOW. A TORNADO IS IN YOUR AREA. He still has the screenshot.
As the storm rumbled closer, Ken heard the front door open and the wind fiercely blow, and he ran upstairs to shut it.
Ten seconds passed. And things were quiet again.
Ken and Luke emerged from their basement, only to feel the rain falling inside their home. As the lightning flashed, the tandem could easily make out the toppled trees on their property.
And then, things weren't quiet anymore.
That older couple on the corner were trapped in their basement — walls collapsed from the brute-force winds. Ken said it took more than an hour to free them, only to discover the woman had suffered head trauma, and needed help immediately.
A back door became a gurney. A man with a truck became a paramedic in his ambulance. And with the roads completely blocked with splintered power poles and uprooted trees, an open field became a road to the Caldwell County Hospital.
Ken and his son were able to respond to two other houses, while Katie and Karsyn had run down to Chuck Mitchell's house — kicking in his basement window to help free Caldwell County's girls basketball coach from rubble.
Ken and Luke got separated in the chaos, so Ken bolted to his in-laws house a mile away on the other side of Princeton Country Club — retrieving a 4×4 Gator to help navigate the wreckage before working on a third home and some more trapped citizens.
Ken then took a fourth neighbor to safety by Gator, then continued to help in the immediate vicinity of he and his family's home.
By early Saturday morning, realization started to set in about the magnitude of not just his actions — but everyone's — as the damage was surreal and, frankly, unsafe.
Later Saturday, a volunteer relief and rescue unit from Chicago had arrived to the scene. They stopped by Ken and Katie's place, and asked if they needed help. Several people with chainsaws were already at work, so Ken politely turned them another direction, and Ken remembers the team being astonished by the self-reliance and immediate resiliency of the neighborhood.
This, Ken said, was the Christmas miracle.
But the Parker family's response, the part they could control, also helped make the miracle.