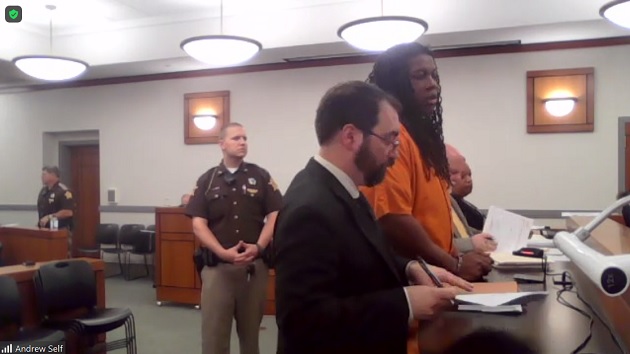 A Cadiz man charged with murder in connection to a shooting outside the Princess Theater in Hopkinsville last year appeared for a pretrial conference in Christian Circuit Court Wednesday afternoon.
22-year old Deovion Day is charged with murder, first-degree assault and possession of a handgun by a convicted felon. The charges are in connection to the November 28 death of 21-year old Aniya Collins, who was found dead in her vehicle from a gunshot wound to the chest.
21-year old Zamarius Humphries was also reportedly found shot in the road and 30-year old Gteria Acree reportedly showed up at the hospital with a gunshot wound to the leg.
During the hearing Wednesday, Judge Andrew Self continued the pretrial conference in order for Day's attorney to be present and to allow more time for discovery to be reviewed.
click to download audioJudge Self set another pretrial conference on August 17th.
According to Hopkinsville Police, Day was arrested in Fayette County on a warrant in connection to the shooting. According to court records, he was also charged with two counts of probation violation on charges of fourth-degree assault, trafficking in marijuana, six counts of wanton endangerment, and six counts of third-degree terroristic threatening.
Two suspects are still being sought by law enforcement in connection to the shooting. 27-year old Jaquavian Spencer is wanted for first-degree assault and Humphries is wanted for attempted first-degree assault.