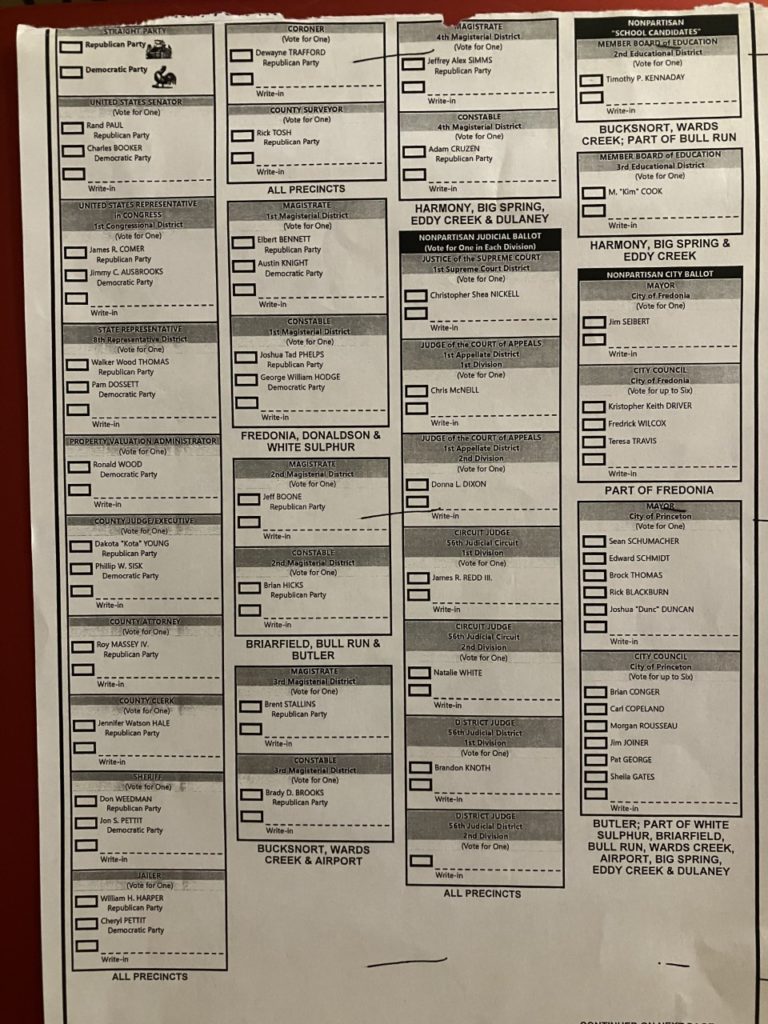 County Clerk Toni Watson wants voters in Caldwell County to make sure they are familiar with the ballots before voting in the upcoming election.
If you are not prepared you could miss voting on all possible options to be decided in the General Election.
There is an option for a voter to mark a straight party but if you do that and don't continue to complete the ballot you will miss out on voting on non-partisan races and also Constitutional Amendments.
There are several non-partisan races including the mayor of Princeton, the mayor of Fredonia, 2 school board races, a Supreme Court Justice, 6 different Judge seats, and Fredonia City Council and Princeton City Council where you can vote for up to 6 candidates. If only a straight party is marked you will not be voting on any of the other races or amendments.
It is also important to realize that there are 2 Constitutional Amendments being voted on and those amendments are located on the back of the ballot. In some precincts, some of the local races will be located on the back of the ballot. It is very important to remember to turn to the back of the ballot and make sure you see all the places to mark.
click to download audioCaldwell County also has a unique race to vote on that could cause confusion. Watson wants everyone to know the process to vote in the contested write-in vote for 56th Judicial District Judge District #2. There have been write-in candidates in the past but this could be the first time locally there has been a race to be decided with only write-in candidates with no name printed on the ballot. When you find the place on the ballot to vote for this position it will only have a box to mark and then a place that says "write in". To vote in this race you have to fill in the blank box and then write the candidate's name on the line. If both of these actions are not completed your vote will not be counted. There are no names listed on the ballot but the 2 individuals that have filed as official candidates are Jennifer Nelson and Matt Schalk. The names are listed here in alphabetical order only since there is no official listing of the names attached to the ballot. This too is a non-partisan race.
click to download audioIt is important to write the name so it can be easily read by the election officers. Each of the write-in votes has to be looked at and determined to be a listed name to be certified as an official vote.
click to download audioThe results of this write-in race could be delayed for some time to give officials time to review each vote cast.
click to download audioThese sample ballots are provided by the County Clerks Office to give voters time to review them before heading to the polls.
For complete election night, coverage tune into WPKY 103.3 or listen online at WPKYonline.com beginning at 6:00 pm.