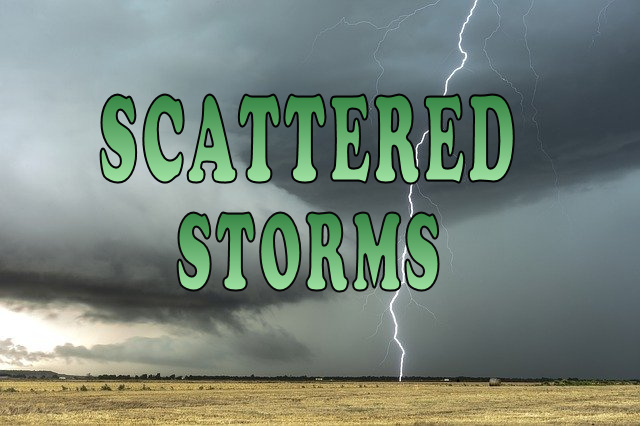 A warm front positioned to our south will lift north across the Quad State today. This will allow a much more humid airmass to invade the entire area. Dewpoints in the mid-60s to around 70 will be commonplace by this afternoon and will continue through the coming weekend. So it will feel pretty sticky this afternoon as that humidity increases. As that warm front starts to move across the region, scattered showers and a few storms will develop across the area. The most likely widespread coverage will be this afternoon and early evening when instability is strongest. There could be a strong storm or two with damaging winds the most likely threat.
A daily chance of thunderstorms is forecast Friday through Sunday. The greatest coverage of storms will be during the afternoon and evening. Lightning and locally heavy rain with associated minor flooding issues will be the primary hazards. However, a strong to severe storm capable of damaging wind gusts or large hail can`t be ruled out, particularly on Friday and Saturday. We will still have the potential for showers and thunderstorms Sunday into Monday, as a cold front moves through. Then drier and cooler air arrives for the rest of next week when our highs will be in the 70's and lows in the 40's and low 50's. Most importantly, no frost is expected.

A Thought: Life is often unforgiving. But we must each live it anyway. And I don't mean live it as if it's something to be endured, or survived. I mean, dig in, get muddy, howl at the moon, take pictures of sunsets, play in the rain, be in love, savor your food, and smile as much as you can. And cry when you're sad. Live it despite the fact it upsets you sometimes. But don't ever second guess who you are, where you have been, and most importantly, where it is you are going. Live it and enjoy it as much as you can. Be cheerful in all that you do. Live joyfully. Live happily. Live enthusiastically, knowing that God does not dwell in gloom and melancholy, but in light and love…and He is always with you.