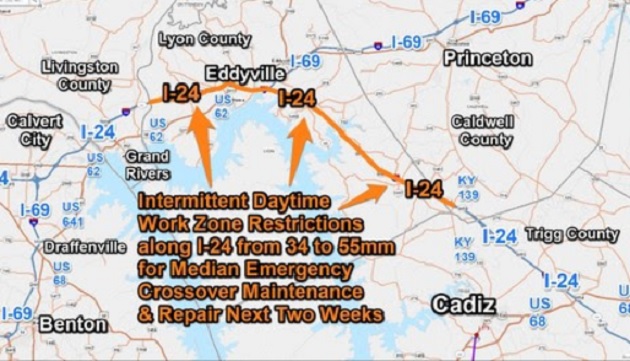 Drivers will need to use extra caution when traveling on Interstate 24 in Lyon County starting Wednesday as the Kentucky Transportation Cabinet plans a series of daytime work zone lane restrictions to allow maintenance and repairs.
District 1 spokesman Keith Todd says the work zone lane restrictions will be at various locations between the 34 and 55-mile marker along I-24 for about the next two weeks. He indicates the work zone lane restrictions are to allow maintenance and repair work on the emergency medial crossover points through Lyon County and Caldwell County between the I-24 Cumberland River Bridge and the Cadiz-Princeton KY 139 Exit 56 Interchange.
According to Todd, the Lyon County Highway Maintenance Crew will be performing maintenance on the crossovers to provide safer and quicker access for emergency vehicles responding to incidents. This work will require all traffic to be moved to the right-hand or driving lane at each worksite.
The mobile work zone is expected to be active anytime weather allows between about 8 a.m. and 3 p.m. on weekdays for about two weeks. The work zone lane restriction is expected to be about one mile long and change locations from time to time. Todd indicates improvements to some of the crossovers may take only half a day, while others may take more than a day.